Pacific Emblem Co. worked with the San Diego police and fire departments to decide on the patch designs
It's been 20 years since September 11, and since this day in history, Pacific Emblem Co. has been raising money for police, fire, and EMT families in New York who were and still are affected by 9/11. The company created the original FDNY and NYPD shoulder patches sold and worn on sleeves nationwide to raise money for families. Pacific Emblem Co. continued its 9/11 memorial fundraising patch efforts with five-year and 10-year patches.
In January 2021, the company president Rich Soergel, who goes by the name "Dr. Patch," designed and sampled a few 20th-anniversary designs. They were shown around to local San Diego police and fire departments and received praise for their design, colors, and 20-year commemoration, according to Soergel. After voting on the best design, Pacific Emblem put its 20th-anniversary police and fire patches into production.
"As the designer and manufacturer of the original FDNY and NYPD "Eagle" patches that raised over $5,000 for families in 2001, I wanted to come up with a special, clean, and simple design that signified the 20th Anniversary," Soergel tells GRAPHICS PRO. "Using similar colors that we used for the FDNY and NYPD and five and 10-year memorial patches, I wanted to keep in the same thread color theme and kept key wording around the outside as you can see. Plus, we shaped the fire like a Maltese Cross and the police like a badge/shield patch."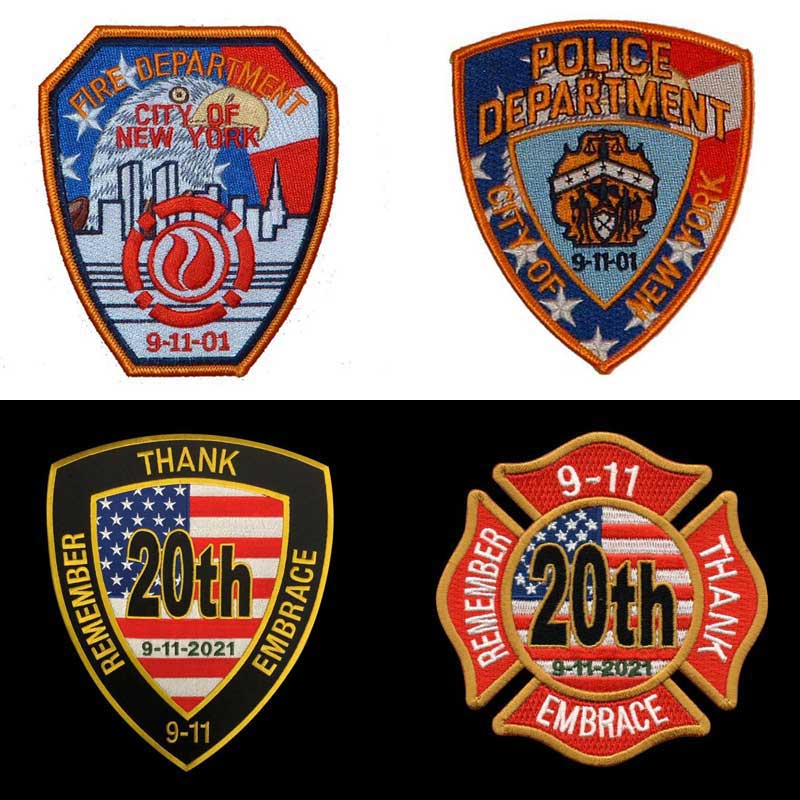 Additionally, Dr. Patch created a special DVPP (discount volume purchasing program) for police and fire departments to buy larger volume 9/11 patch orders at lower pricing for resale to fellow officers and firefighters or the local community to raise money for their departments and firehouses.
Pacific Emblem will donate 10% of wholesale sales to its local San Diego firefighters and the San Diego Food Bank through these efforts.