ABOUT
Your custom hats & patches company
Pacific Sportswear and Emblem Company is an innovative manufacturer and importer of Custom Headwear, Patches,  and Accessories to customers nationwide and globally.
From Embroidered to Rubber, To Glow to Reflective patches and emblems, we have WOWed the industry since 1985.  We also offer some pretty intense custom Hats, Dog Tags, Terry Cloth and Silicone/Rubber Wristbands, Lapel Pins and more to capture your event, promotional or retail needs.
Let Pacific Sportswear and Emblem Company quote your next job by calling (800) 872-8778 today or emailing your art/specs to quotes@PacificEmblem.com
If we haven't worked with you "yet", we hope you give us a chance. You'll be blown away at our style, attention to detail, amazing quality and prices that work…all on time and early! We are the quiet FORCE and guarantee you will say…. "Why didn't I use these guys before?"
So…whether it's patches for sports teams, badges for companies, lapel pins for schools, hats for a stadium give-away,  we provide it all. Rest assured that every custom product that we build for you will not leave our doors until you approve it and until it's inspected thoroughly. Give us a shot….you'll be glad you did!  Pacific Sportswear and Emblem Company is also a licensee of  Honda Motorcycles! (www.HondaPatches.com).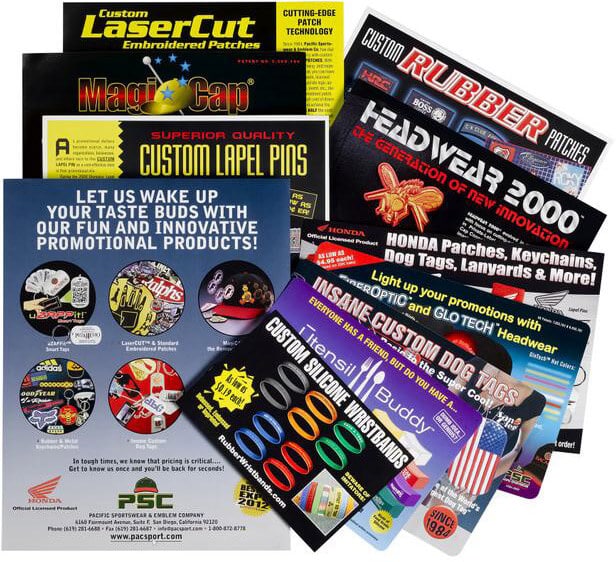 WHY NOT LET US MANUFACTURE YOUR CUSTOM PRODUCTS TODAY